App Installation

Swiper1 requires an active Click & Pledge account.  If you need an account Apply Here. Install the Swiper1 app through the Android Play Store or iTunes App Store. Following the App installation instructions provide on the store you select.




The illustrated QR Code is a direct link to the Google Play Store for Swiper1.




Once installed the application may be used for manual credit card processing without any need for the Swiper1 hardware.  No additional fees for manual entry. If using the Swiper1 device, credit cards may be processed by swiping the card.
Salesforce Activation
Connecting your account with Click & Pledge and Salesforce is as easy as entering a few parameters in the Click & Pledge's administrative portal.  Any number of Click & Pledge accounts may be connected to a single Salesforce account through the following steps: [Once activated all checkout pages as well as API and widgets will post donation and payment information to the Salesforce account]
NOTE: API Class Library version should be 2.3000 or more.
Step By Step Procedure:
Login to the Administrative Portal: https://portal.clickandpledge.com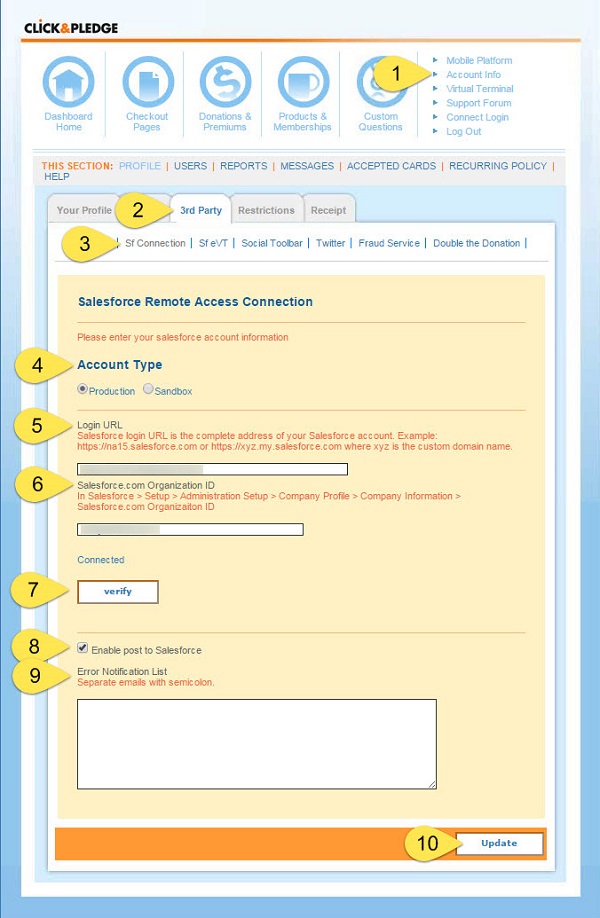 Step 1: Click on Account Info.
Step 2: Click on 3rd Party.
Step 3: Click on SF Connection. SF Connection is a token less connection.
Step 4: Account Type: Select the Account type.
Sandbox: Sandbox is used for testing and development. After developing here, we will move to production.
NOTE: If your Salesforce instance is Sandbox then on the right top there will be a word called "Sandbox: xxxxx". Xxxx means name of the Sandbox.       
Production: Day-to-day activities will be performed in Production.
NOTE: If your Salesforce instance is Production then there won't be any sign.
Step 5: Login URL: Salesforce Login URL is the complete address of your Salesforce account.
Eg:- https://na15.salesforce.com or https://xyz.my.salesforce.com where xyz is the custom domain name.

Step 6: Salesforce.com Organization ID: Follow these steps to find the Organization ID.
Salesforce > Setup > Administrative Setup > Company Profile > Company Information > Salesforce.com Organization ID.
Copy the Organization ID and paste it in the allocated text-box.
Step 7: Click on Verify button. After clicking on Verify button, the page will redirects to the Portal login screen. Enter the details and check, you will see that the connection is Connected.
NOTE: If it is not connected then you might enter wrong Login URL or wrong Organization ID.
Step 8: Enable post to Salesforce: Enable the Check-box, so that the transactions which are posted by Salesforce to Portal will be posted back to Salesforce after verification.
Step 9: Error Notification List: The error transaction details will be emailed to the email ids which are mentioned here. Make sure to separate the emails with semi-colon (;).
Step 10: Click on Update to save the settings.
Enabling Swiper1 in the Click & Pledge Application
Once the Swiper1 App has been enabled, Swiper1 needs to be activated in the C&P Settings.
1. Click on C&P Settings
2. Click on Swiper1 tab
3. Check the Activate Swiper1 checkbox
4. Click on Update Swiper1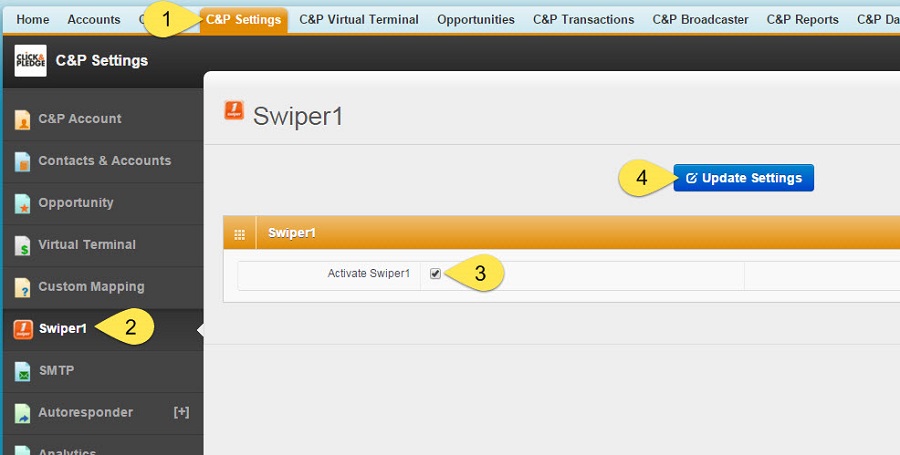 Precautions to be taken when Swiper1 in installing in Marshmallow (Android 6.0)
In Marshmallow, the users need to grant permission to the apps. Unlike before versions, the user needs to grant permissions while the app is running.
Eg: - If the user downloaded an app related to the camera when he opens the app then he needs to give the camera permissions to the app. The user can revoke the permissions at any time by going to the app's settings screen.
In the same way, when a Marshmallow user downloads Swiper1 app then he should give the below permission for full access:
1. Location Permission
 Geo-Location is needed for identifying the transaction location. Swiper1 will not run without Geo-Location permission. So click on Allow button to grant the access.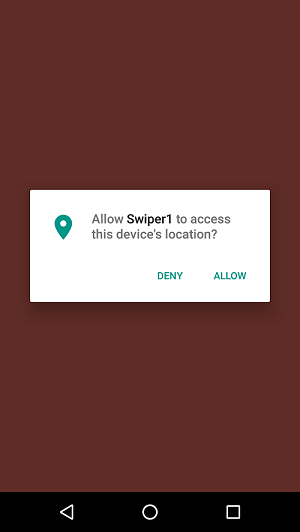 2. Camera Permission
The camera is needed for QR-Code scanning and Catalog design. Swiper1 will not run without Camera permission. So click on Allow button to grant the access.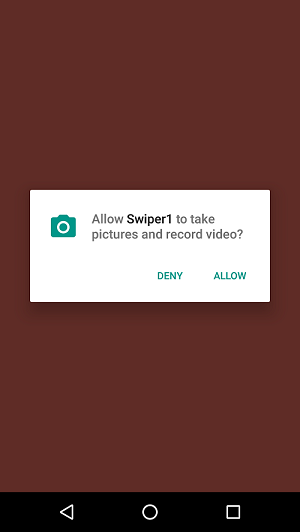 3. Audio Permission
Audio is needed for card swiping using the Swiper1 hardware. Swiper1 will not run without Audio permission. So click on Allow button to grant the access.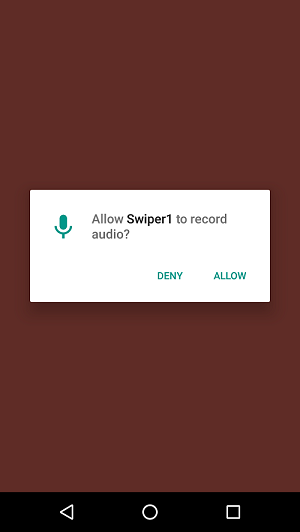 4. External storage Permission
External Storage is needed for Catalog images & description. Swiper1 will not run without External Storage permission. So click on Allow button to grant the access.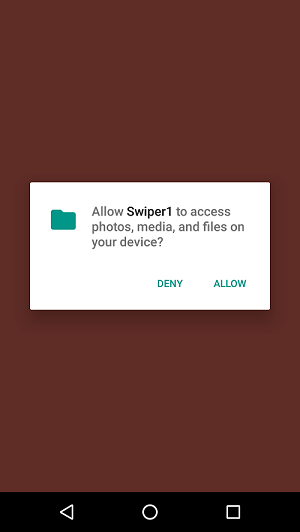 5. SMS Permission
 SMS is needed for sending a receipt. Swiper1 will not run without SMS permission. So click on Allow button to grant the access.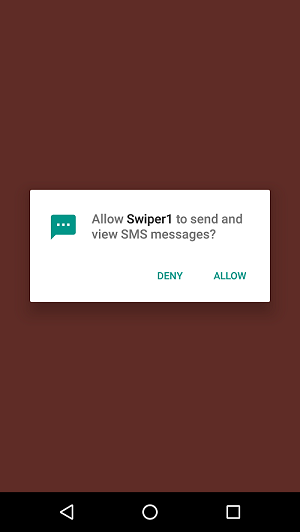 Only after clicking on Allow button on all these permissions, the Swiper1 app will open for Marshmallow users (Android V6.0).
NOTE: If you are using Swiper1 app for the first time in iPhone, then you need to give permission to Location.